Baker's Delight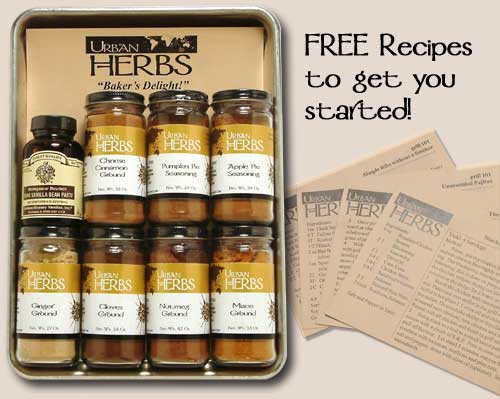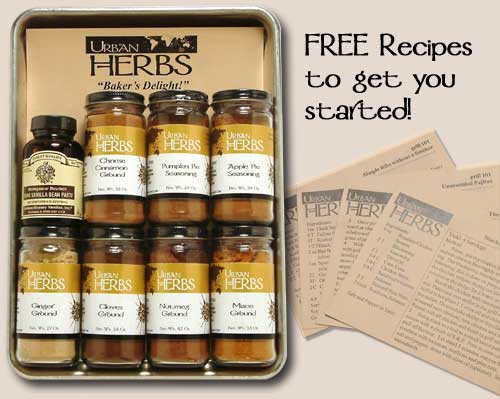 Baker's Delight
Contains:
Vanilla Paste
Chinese Cinnamon
Pumpkin Pie Seasoning
Apple Pie Seasoning
Ginger, Ground
Cloves
Nutmeg, Ground
Mace, Ground
Baker's Delight
Vanilla Paste: Nielsen-Massey Pure Vanilla Bean Paste is a convenient replacement for vanilla beans in any recipe. Because it contains vanilla bean seeds, the paste adds an all-natural, gourmet appearance to foods. Use it for making traditional favorites such as ice cream, gelato and crème brulee, or to enhance whip cream, cakes an icings.
Chinese Cinnamon: Chinese Cinnamon is also known as Cassia. Similar to true cinnamon, "Ceylon", it is more pungent and has a less delicate flavor . Used widely in the United States, Cassia Cinnamon enhances the taste of vegetables, fruits and is used to mellow the tartness of apple pie.
Pumpkin Pie Seasoning: Our seasoning is made up of select cinnamon, nutmeg, allspice, ginger and ground cloves. This blended recipe allows you to make the perfect pie every time. Substitute our seasoning in pumpkin recipes which require cinnamon or nutmeg for a more complex and flavorful result.
Apple Pie Seasoning: A custom, balanced blend of cinnamon, nutmeg and cardamom gives our seasoning a delicate flavor to help enhance your apple baked dishes. Apple crisps, strudel, cakes, turnovers, cobblers, and of course, pies taste better as our blend helps distinguish the taste of the apples for a better baked dish.
Ginger, ground: Ground ginger is used for confectionery items, desserts, savory dishes or added to curry mixes. Ground ginger is used in gingerbread, cookies, pies, as well as in Indian curries, and Asian foods. Ginger is slightly hot, rich, and aromatic.
Cloves: Cloves are the rich, brown, dried, unopened flower buds of an evergreen tree native to the "Spice Islands" in Indonesia. The name comes from the French "clou" meaning nail. Cloves are strong, pungent, and sweet and in its ground form, spice up applesauce, cakes, muffins, cookies, gingerbread and a variety of baked goods.
Nutmeg: Nutmeg has a pungent aroma and sweet flavor. Nutmeg is an ideal baking spice for making fruit pies, cookies, muffins, cakes and sweet breads. Used as a topping it is often sprinkled over puddings, eggnog, whipped cream and custards. It can also be sprinkled lightly over chicken, veal and fish and used in sausages, soups and preserves.
Mace: Mace has a flavor and aroma similar to nutmeg, however slightly more pungent. Mace lends a fragrant, warm spiciness to many baked goods and can be used in puddings as well as fish and meat dishes. Sprinkle on anything chocolate, fruits and whipped cream. Mace can always be used as a substitute for Nutmeg.